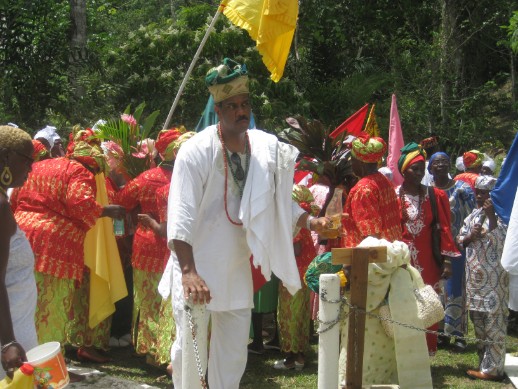 Babalawo Oluwole A. Ifakunle Adetutu Alagbede is a Traditional African Orisa Practioner, professional performing artist, father, and master chess player. Awo Ifakunle attended Hunter College, studying community health and physical education and is the student of Professor Ogunwande Abimbola who is the Awise Agbaye (spokesman of all babalawo in the World). His Oluwo (officiator of Ifa ceremonies), and his master teacher is Chief Araba Malumo Ifatukemi Alagbede of Elejibo, Lagos, Nigeria in whose compound Awo Ifakunle was initiated to Obatala and Ifa over 20 years ago. Additionally, the Awo has been tutored by Chief Priest Awise of Osogbo Ifayemi Elebuibon on Ifa divination and chants of Ifa. Locally, Awo Ifakunle was the Godchild and student of both Oba Oseijeman Ofuntola Adefunmi I (iba e), who was the King of Oyotunji African Village in South Carolina where Ifakunle lived in for a time in the 1970s and Renard Sango dei Awo Alaafia Simmons (iba e). His teachers also include iba ye Edward Sango Ilari Awolola James (iba e), who was the first African American Sango Priest, the student of James Ifaboye Frost, and Chief Yagbe Onilu of California. All have made significant contributions to Awo Ifakunle's development as an Awofa (student of Ifa) and Orisa worshipper.
Awo Ifakunle has been initiated to Egungun Society in Ibadan, Nigeria, as well as three houses of Palo (Congo Bantu-based religion). He has studied with the Spiritual and Sango Baptist of Trinidad and Tobago where he has taken a type of ritual initiation known as Thrones. He has received countless lectures from Babalawos throughout the years from Cuba, Puerto Rico, Trinidad, Brazil, Benin, and Nigeria, among other locales, and regularly lectures on Orisa Traditional religion and Ifa at Ile Eko Sango Oshun Milosa shrine in Trinidad and Tobago, at High Schools in New York City and at Colleges and Universities including Harvard University, Nanuet College, Hunter College School of Social Work, New York University, and Sara Lawrence College. Most recently, Awo Ifakunle was invited to represent practitioners of African religions at the World Alliance of Religions Peace Summit held in Seoul, South Korea. His biggest love, however is his role as officiating Awo for the Dyebanyani Initiated Women's Society, which conducts a rites of Passage program, for both young and aged woman alike, elevating them to the status of Nya or "trained woman" with the use of Eedyi tradition out of Southern Senegal.
Awo Ifakunle uses the literary corpuses of Ifa to chant, pray, divine, and make rituals on a constant quest to explore and expose how the ancient and modern African Traditional religion of Orisa can positively transform our modern communities in the African Diaspora. His concerns are with Africa and her people, serving his community, and with maintaining Africa's traditions, both on the continent and in the Americas, for the future generations to inherit. Ori (head) is the great transformer. Ori where are we going?